Welcome to Bar O H Quarter Horses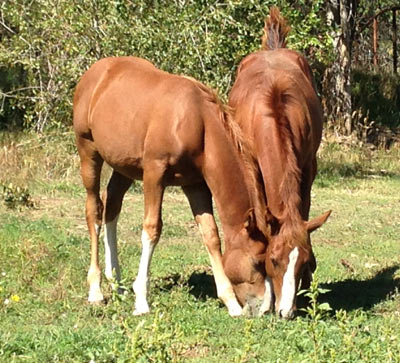 Bar O H Quarter Horses is a horse breeding operation located in Allison, Colorado. Located near Navajo Lake and in the southwest corner of the state, Bar O H enjoys warm climate and plentiful pastures and water. It is an ideal location to breed and raise foals.
Bar O H Quarter Horses is owned by Mike and Kristy Hitti who are both natives of the area and have been around horses most of their lives. They strive to raise quarter horses with one main goal - quality cutting and performance horses. With that thought in mind, they have accumulated a quality band of broodmares.
Bar O H broodmares bloodlines include High Brow Cat, Dual Rey, Dual Pep, Freckles Playboy, Palo Duro Cat, Doc Bar, Smooth as a Cat, and Smart Lil Lena. We have been fortunate in acquiring the mares we have and in crossing them to high quality sires to produce exceptional athletes with good minds.
These horses have the cutting and working cowhorse bloodlines and also cross over into other arenas successfully. Some are beginning to compete in the Reining and Ranch rodeo worlds. These horses are all-round performance horses.
In addition to the horse breeding operation, the Hitti's also raise excellent Orchard/Timothy grass hay for sale on the open market as well as feed their own livestock.

Bar O H Quarter Horses
Mike and Kristy Hitti
598 CR 331
Ignacio, Co 81137
970-749-0047 Mike
970-749-3092 Kristy
kmhitti@frontier.net